As with any emergency dial 9-1-1 and explain your situation.  The dispatcher will notify the appropriate authorities including the Malibu Search & Rescue team when needed.
Malibu Search & Rescue Team is funded largely by private donations and grants from individuals and organizations who understand our mission and appreciate the work we do in the communities we serve. The Los Angeles County Sheriff's Department supplies and maintains the team's rescue trucks, runs the reserve training academy and provides law enforcement training. All specialized rescue equipment, clothing, outerwear, computers and radios is purchased by the team with donated funds.
The Malibu Search & Rescue Team holds formal training sessions twice a month.  We train in the classroom one evening and we train in the field one weekend day each month.
The Team also attends the Mountain Rescue Association yearly re-accreditation test.
The primary response area of the Malibu Search & Rescue Team is the Santa Monica Mountains from the Ventura County Line to Pacific Palisades as well as the East face of the Santa Susana Mountains surrounding the San Fernando Valley.  We will respond to assist any of our sister teams when needed or to a CAL EMA (California Emergency Management Agency) callout when requested.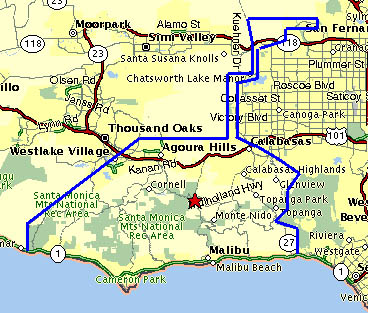 Some of the cities & unincorporated areas we cover: